Beginning Teacher Orientation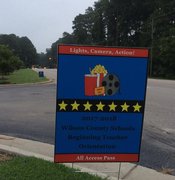 Beginning Teacher Orientation August 2017
The Beginning Teacher Orientation is required for all teachers in their first year of teaching. We had a wonderful Blockbuster Orientation and Social August 14-16, 2017! Click on the Beginning Teacher Orientation Album on the top right of this page.
| | |
| --- | --- |
| Copyright © 2017 Wilson County Schools | |
Wilson County Schools is committed to providing a website that is accessible to the widest possible audience, regardless of technology or ability. This website endeavors to comply with best practices and standards defined by Section 508 of the U.S. Rehabilitation Act. If you are having accessibility concerns, please contact us at 252-399-7712.