Using Online Educational Resources and Web based Tools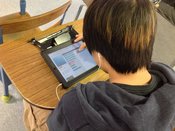 Are You Protecting Student Privacy?
Using Online Educational Resources and Web based Tools
For the purposes of parent permission, there are two categories of web tools: Some tools require only parental awareness but other tools require explicit parental permission and often a parent signature for a student to create an account. Tool publishers create terms of service that dictate which category the tool belongs in.
Permissions apply to students creating accounts. Accessing a site like Padlet without creating an account does not collect personal information and therefore does not require permission. However, it is always best practice to keep parents informed about the online activities occurring in classrooms.
Creating terms of use and privacy policies that comply with CIPA and COPPA are the responsibility of the tool publisher. Our responsibility is to keep our students safe online and to keep student information private by following the terms and privacy policies created by the tool publishers. Before using any online tool, please review online safety and digital citizenship with students.
The chart provided here is intended to provide at-a-glance guidance for commonly used web tools based on input from teachers, trainers, and instructional technology facilitators. Please visit the actual pages and review the publisher's terms of service for more detailed information.
This link will provide you with a downloadable sheet that you can click on links to the privacy and policies and terms and conditions most commonly used in our district. If you see a tool that you or your school frequently uses that is not listed, please submit it by using the Google form link on this page and we will be happy to update our list. Currently Used Online Resources Link
To enter a new Online Educational Resource or Web based Tool that is not found on the document list click here: Google Form Link You will need a WCS email account to access this form after clicking on the link. Thank you in advance for your submissions.
| | |
| --- | --- |
| Copyright © 2018 Wilson County Schools | |
Wilson County Schools does not discriminate on the basis of race, color, national origin, sex, disability, marital or parental status, in admission, to access, to treatment in its programs and activities. This website endeavors to comply with best practices and standards defined by Section 508 of the U.S. Rehabilitation Act. If you are having accessibility concerns, please contact us at 252-399-7712